By Amanda Hoyle
A developer of multifamily properties has been approved for a $30.9 million construction financing package to kick off construction of an apartment community in Apex called The Flats at 540.
Maryland-based RST Development LLC was approved in January to build the new Class A apartment community, formerly known as Beaver Creek at 540, across from the Beaver Creek Commons retail center on Creekside Landing Drive.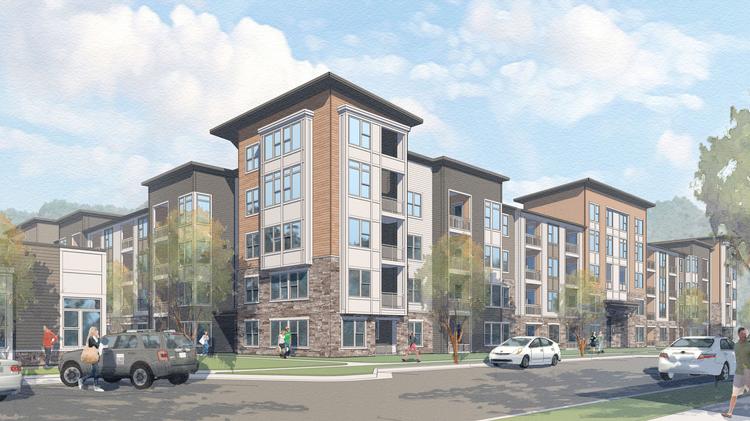 Construction crews are expected to begin moving dirt soon at the site with the first units opening in fall 2017, says Jessica Gillette with Hercules Living, the property management company for RST Development's parent company.
Plans for The Flats at 540 call for 212 residential units spread across three four-story buildings. The property will also have a clubhouse with a pool, fitness center, business center, deck area with a cabana and outdoor kitchen, car care facility and a dog park.
Real estate lending specialist firm Greystone helped broker the deal between RST Development and the FHA-insured financing firm. The loan, according to Greystone, uses HUD's 2016 MAP Guide standards for a lower mortgage insurance premium threshold based on specific green and energy efficiency requirements.
To qualify for the reduction, a real estate project must produce a Statement of Energy Design Intent score of 75 or higher. The Flats at Apex 540 has documented a proposed SEDI energy score of 82.
"Based on the market fundamentals of the region, the reputation of the developer and their extensive experience in HUD financing, this project was fast-tracked by the Atlanta HUD office for a straight-to-firm commitment submission instead of the typical two-stage process, meaning loan commitment is expedited by at least four months," stated Phiet Nguyen, deputy chief FHA underwriter and head of the 221d4 underwriting team at Greystone. "With this outcome spearheaded by Greystone, the borrower will realize an even faster timeline to project delivery."
Headquartered in Rockville, Maryland, RST Development is the development arm for Hercules Real Estate Services of Virginia Beach. Its sister company, Hercules Living, owns and manages more than 40 properties, including more than 8,000 apartments in seven states. In North Carolina, it manages the 552-unit Cumberland Cove apartment community in north Raleigh and two others in Winston-Salem and Browns Summit.
Read more here: http://www.bizjournals.com/triangle/news/2016/12/12/apex-multifamily-project-approved-for-31m.html
For supplemental multimedia or information please visit: www.herculesliving.com